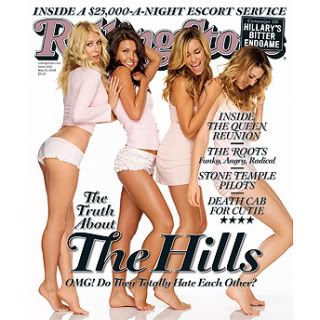 For once the girls of The Hills weren't photshopped in a cover shoot For RS.
This spring's season premiere earned the show a record 3.9 million viewers — the highest-rated cable telecast of the year so far — with an estimated 5 million more views online. People love drama and thats why they watch the Hills. During the 9hour photo shoot everything went great,except that Heidi and Lauren did not say one word to eachother, but no one thought they would anyway.
"It's jealousy, man," Spencer says. "It's human. I'm jealous of Jay-Z, Bill Gates, Rupert Murdoch. I feel for these people who wish they could be on reality television and not in their cubicles. You got to thank your haters." Wow ...he really is the biggest loser of all.