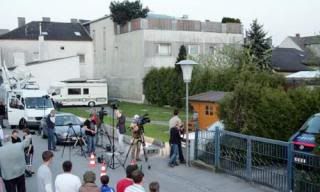 A 73 year old man named Josef has kept his daughter imprisoned in a windowless basement for 24 years and she also fathered his 7 children. The woman, Elizabeth who is now 42 said back in 1984 her father lured her into the basement; drugged her, and handcuffed her there. She claims he had started the abuse when she was 11. She said she had borne seven children by her father, including twins, one of whom died in 1996 after just three days. The father removed the body from the cellar and burnt it.
"There is not only one, but a number of rooms: one room to sleep in, one to cook, and there are also sanitation facilities," Franz Polzer, head of the criminal investigations unit in the province of Lower Austria, told the broadcaster ORF. Josef's wife, Rosemarie, had been unaware of what happened to her daughter and is believed to have assumed she had disappeared voluntarily, after her parents received a letter from her saying they should not search for her.
The drama began to unravel last weekend when Elizabeth's 19-year-old daughter, Kerstin, who lived in the cellar, was left at a hospital with a life-threatening illness. A search for the mother increased in urgency as Kerstin's condition worsened.The plight of the mother and children was discovered on Saturday night when Elisabeth and her father, Josef appeared together at the hospital.
They were taken to the nearby police station where he was arrested for sexually abusing his daughter and holding her captive.
Wow this is just sick, crazy, and disturbing.
http://www.guardian.co.uk/world/2008/apr/28/austria.internationalcrime