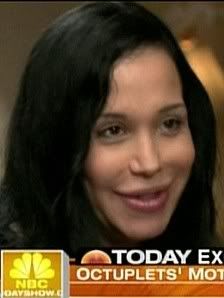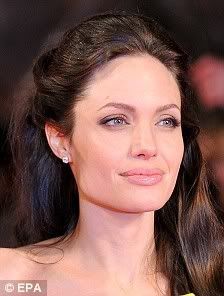 Hollywood star Angelina Jolie is said to be 'creeped out' by octuplets' mother Nadya Suleman after she received several admiring letters from her. Sources close to Angelina said the 33-year-old Suleman had written to Jolie praising her support of children and gushing about how talented she was. She is said to be irritated by Suleman - and particularly by rumors claiming the single mother had facial surgery to make her look more like her.
Friends of Suleman said she had altered her appearance to look like Jolie. The source was quoted as saying: "It is clear this woman needs psychological help. It's one thing to clip out a celebrity's photo from a magazine and ask your hair stylist to copy that cut. Who hasn't done that? But to have a nose job, have collagen injections in your lips and start talking like Angelina - that's over the top."
Suleman has set up a website to solicit donations for her children after controversy over their birth two weeks ago appears to have put many sponsors off. She launched a website yesterday, encouraging readers to give her money via credit cards and send parcels. The American mother, who already receives a raft of state handouts to care for her growing brood, also left a message to well-wishers. "We thank you for the love and good wishes sent to us from around the world".
Earlier this week, it was revealed that Miss Suleman has three disabled children
Despite previously insisting that she will not be claiming benefits, her publicist confirmed that she already receives food stamps and child disability payments to help feed and care for her six other children.
The more news that keeps coming out about this lady the more I think that she does really need help. I believe she did have these children to possibly get a t.v. show like it was reported. It seems to be the case, why else would she start a website to collect money from people. This woman makes me so angry-How do you guys feel about her?