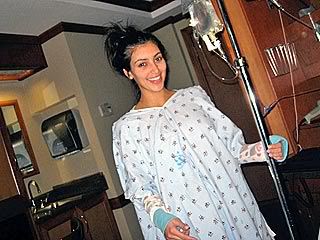 Instead of spending her 28th birthday in London with boyfriend Reggie Bush, Kim Kardashian spent it next to him in the hospital.
She even wore a hospital gown to celebrate her 28th birthday Tuesday at an Alabama medical center, where Reggie Bush was recovering from surgery after injuring his knee.
"I was supposed to be in London right now with Reggie but we had to cancel our trip," she wrote on her blog. "In [Sunday's] game against the [North] Carolina Panthers, Reggie injured his left knee and needed surgery."
She remains positive: "As long as he is okay, I will have the best birthday ever!!!!"