So are they or aren't they together?? Salma Hayek hit the Balenciaga fashion show in Paris with her ex-fiancé Francois-Henri Pinault, the owner of the fashion house and father of her one-year-old daughter Valentina Paloma.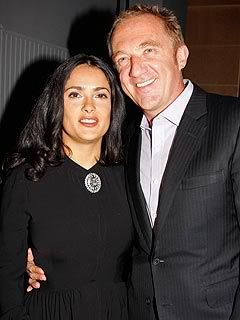 "[They were] very friendly together, looking happy," said one attendee. "They weren't holding hands but were definitely side by side."
The couple's public outing comes just weeks after they were spotted together in Los Angeles.
On Thursday, they had afternoon tea in the gallery of the Plaza-Athénée Hotel. "They seemed very comfortable," said an onlooker, "with Valentina playing on the couch between them." And on Saturday, they went with their daughter away for a weekend outside the city.
After today's show the two returned to the Plaza-Athénée – where Valentina was waiting in the lobby. "She came walking over and kissed Mommy and then she kissed Daddy," said an eyewitness. "It was very sweet."