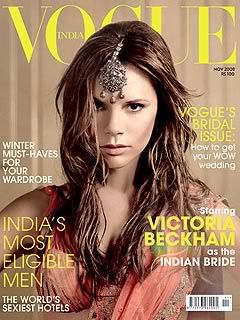 Victoria Beckham has made her debut in Vogue..India.
"I feel like an Indian princess!" says Beckham, who appears on the November cover in a beautifully embellished wedding-day sari.
She appears in the bridal special issue: "It's so me," she says, examining the intricate detail of the fabrics. "This is real craftsmanship."
The singer and fashion designer is certainly becoming a Vogue regular, having graced the April cover of British Vogue – making this her second cover of the fashion magazine.
So Did Victoria get along with the Vogue editors in India??
"I thought she was a hoot!" said Vogue fashion features director Bandana Tewari. "Victoria had this unexpectedly dry sense of humor that all Brits seem to develop in response to their soggy weather!"
[source:people]