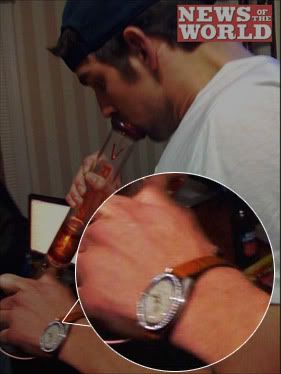 After the above photo was published of Michael Phelps taking a bong hit at a college party, Kellogg's decided not to renew his contract. Subway on the other hand will keep his endorsement deal.
"Like most Americans, and like Michael Phelps himself, we were disappointed in his behavior," the company said. "Also like most Americans, we accept his apology. Moving forward, he remains in our plans."
The swimmer has also been suspended from competition for three months by USA Swimming. However, many of his sponsors, including Visa, Speedo, Omega and Human Performance Labs, have stood by Michael.
"By no means has this been easy," Michael told a cameraman on Thursday. "Bad judgment... and something I'll learn from."
Yes this is the second time he has said this, but maybe this one will cost him a little bit more and he really will learn to do stuff like this in private. I don't care what anybody does, I just think he has been dumb for being at a party and allowing himself to get photographed doing that. Although I do wish I was the one who took this picture-Must of been a nice check lol.