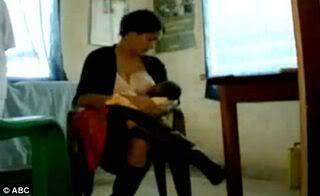 While Salma Hayek was on a charity mission to war devastated Sierra Leone, she was confronted with a very hungry new born. Much to the astonishment of the camera crew accompanying her on the trip, the star took the seven-day-old boy to her own breast and fed him.
"The baby was perfectly healthy, but the mother didn't have milk," she said. "He was very hungry. I was weaning my daughter Valentina, but I still had a lot of milk that I was pumping, so I breastfed the baby."
The resulting footage has sparked widespread controversy because it's so unexpected to see a glamorous, pampered movie star scoop up a tiny, disadvantaged bundle and nurse the child as if he were her own.
As far as Salma, her actions boiled down to the very basics of survival. She had milk to give the baby and the child's mother did not.
"The women had no idea who Salma was and her offer was made in a deeply emotional context. The day before, we had witnessed a baby die in hospital and we were surrounded by women who were struggling to feed their children and keep them healthy, so she just quietly sat there and nursed the baby."
"What she did was a beautiful thing. A moment of maternal instinct that has captivated the world."
But her actions have also reignited the fierce and emotive debate about wet nursing, a practice which does not sit comfortably with modern motherhood at all. In the world today 'shared feeding', as it's known, is widely considered inappropriate at best and dangerous at worst, due to the risk of passing on HIV or Hepatitis C.
I think that what Salma did is what makes her a "real" person. She didn't care that she was some big time actress, she saw a starving child and did what she could to help it. If only everyone in the world was as thoughtful and caring as her..