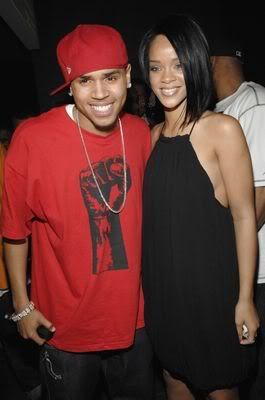 At about 3:30 Pacific time, just as the crowd was filing into the Staples Center for The Grammy Awards, Los Angeles police released a report saying Chris Brown was under investigation for an incident that occured the night before where he allegedly assaulted a woman.
The report said he and a woman were driving in the ritzy neighborhood of Hancock Park when they began to argue around 12:30 a.m. Sunday. Brown then stopped the car and both got of them got out, then the argument escalated. The woman, who had visible injuries when police arrived, identified Brown as her attacker. But according to the report, Chris Brown had already left the scene before the authorities could question him.
Brown and his girlfriend Rihanna were both scheduled to perform in different slots of the show, but separately dropped out at the last minute. She was supposed to sing "Live Your Life/Disturbia" as the second performance of the night, he was to sing "Forever." Luckily the Recording Academy found replacements for their performance slots with Justin Timberlake, Al Green, Boyz II Men and Keith Urban singing Green's classic hit, "Let's Stay Together." No mention was made on the broadcast about the switch, but fans who were waiting to see the both of them noticed their absence.
Jail records show that Brown turned himself in to authorities around 7 p.m. and was briefly held and interviewed by detectives before posting $50,000 bail around 9 p.m. Police booked him on suspicion of making a criminal threat, which is a felony. Police did not explain how their initial report of an injury assault related to the charge, but it will ultimately be up to the district attorney's office to decide what charges, if any, should be brought against Brown.

UPDATE:
Insiders have identified the victim as his girlfriend Rihanna. Sources say Brown and Rihanna were seen Saturday night at a pre-Grammy party hosted by music mogul Clive Davis in Beverly Hills. The two posed for pictures and were spotted kissing before they hopped into a waiting silver Lamborghini. But friends of the couple say the kissing was all part of the "happy couple" act and that they had been arguing because Rihanna accused him of checking out other women at Clive Davis' party.
A security guard at Cedars-Sinai Medical Center in Los Angeles told the Daily News Sunday night that he saw Rihanna being taken for treatment at the hospital. Later the guard, Rodderick Brown said, "She's been released".
"It seems she's taking the steps you'd need to take if you were going to press charges," says a close source. "But she could wake up tomorrow morning and decide she still loves him." The friend also added that there have been a lot of fights recently because "Rihanna is a clingy girlfriend who can't bear to have Chris out of her sights".
Wow-This story is just crazy...I hope that none of this true!!
[source:nydailynews]