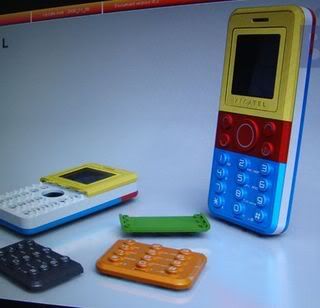 Images of the world's first Lego mobile phone have been leaked on the internet. Lego has been trying to enter the digital age and is planning to release a range of themed gadgets including a camera, MP3 player and walkie-talkies, as well as the cell phone.
The brightly colored Alcatel phone has been styled to look like as if built of red, blue and yellow Lego bricks. It has interchangeable pieces so you can keep changing the colors of your cell phone.
Any decision to use Lego to promote mobile phones to children would be highly controversial, given concerns about the impact of the technology on developing brains. But Lego is hoping to tap into the trend for hi-tech toys among children.
The company has formed a partnership with Las Vegas firm Digital Blue to manufacture a range of Lego-based electrical goods which are a world away from its traditional toy bricks. The fully functioning range of gadgets also includes alarm clocks and a so-called 'boom box' - an all-in-one CD and radio player. Digital Blue boss Tim Hall said: 'The line features fully functional digital cameras, MP3 players, walkie-talkies and USB drives that appear to be built from classic Lego bricks. "We're extremely proud to team up with Lego, a highly regarded brand among generations of parents and kids throughout the world."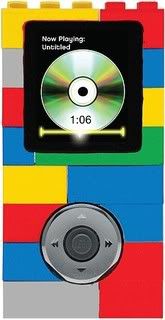 The new products are aimed for children aged between 7 and 11. The full range is set to hit British stores this summer and items will cost between £14 and £40. Exact specifications have yet to be released.
Jill Wilfert, vice-president of licensing for Lego Group, claimed the new initiative to embrace gadgets would inspire young children. "Our entrance into the youth electronics space will enable our fans to express themselves through photos, videos and music, while displaying their enthusiasm for one of the world's all-time favorite toys", she said.
"It will help bring the Lego brand to life in an all-new way for its fans."