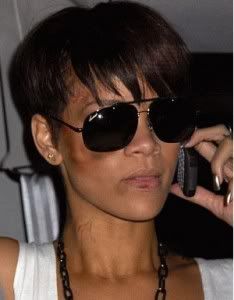 More information along with this picture has been released about Rihanna and Chris Brown's fight. E! has said Rihanna has told detectives that Chris choked her and then threatened to kill her during the incident.
Some unnamed police sources have offered up new details about why this all happened. Apparently while driving Rihanna home from Clive Davis's party, Chris received a text message-A very sexually explicit message. "He got a booty call. He got a text. Rihanna saw it and she got upset. They started to argue," says the source. People magazine is reporting that Rihanna has the code to access Brown's texts and has been checking them obsessively for messages from other women. So my original posting was correct in the speculation that it was Rihanna's jealousy that started the whole thing.
So she freaks out about the text and slaps him. Chris then reportedly pulls over his rented Lamborghini and Rihanna somehow managed to grab the keys and toss them out of the window. That's when Brown lost it.
One source said, "She got out of the car. He wanted her to get back in, so he grabbed her. She pulled away. That's when she's told people he hit her." "He reportedly exited the car and tried in vain to find the keys, then grabbed Rihanna's neck and began choking her, saying, 'I'm going to kill you!'"
Rihanna had also told police that she lost consciousness and when she awoke, Chris was gone. The responding officers were so concerned about her injuries, they drove Rihanna to the hospital in their squad car instead of waiting for an ambulance.
"Chris has been trying to contact her. So far she hasn't taken his call," says a source.
Rihanna has since canceled a second show overseas. At the most recent show, the tour promoter announced, "an assault case involving Rihanna's boyfriend." Earlier this week, Rihanna's grandmother told Barbados' Daily Nation newspaper, "I don't want people to worry. Rihanna is fine and she is doing well." Her grandmother also denied claims that Rihanna has a broken nose.
So far Chris Brown hasn't said anything publicly about the incident. All we know about whats going on with him is that Wrigley's has suspended its ads that feature Chris. The people at "Got Milk" have canceled his ads saying, "We are taking the allegations against Chris Brown very seriously, We are very proud and protective of the image of the Milk Mustache campaign and the responsible message it sends to teens. Mr. Brown's ad … is scheduled to end this week." In my city(Philly) on the radio stations they have been having fans call in, asking them whether or not they should continue to play his music. Most of them have said to keep playing it until an outcome is reached-Following the age old "Innocent until proven guilty" motto. We will find out March 5th-when Chris is due back in court.
What do you guys think? Will you continue to buy/listen to his music if he is found guilty?