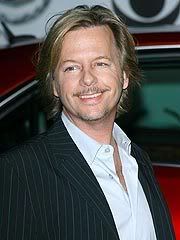 David Spade had announced in January that he had a brief relationship with Playboy Playmate Jillian Grace. The result of that was Jillian becoming pregnant. When David found out he said that if it was proven to be his child he would accept full responsibility.
Well the time has come and a baby girl was born last week in Missouri.
After the birth David's announced, "David and Jillian have been in close contact throughout her pregnancy and he plans to go see the baby during his first break from shooting Rules of Engagement."
No other details, including the baby's name, were provided.
[source:people]