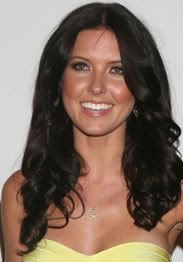 Audrina Patridge and Ashlee Simpson have shared a lover in the past.
While pop-star Ryan Cabrera was dating Ashlee Simpson, Audrina used her vindictive ways to catch his eye.
"Ryan can act kind of shy and reserved on the outside, but he's actually quite the ladies' man, and he and Audrina really hit it off," a friend says. "I don't think he ever mentioned Ashlee to her — and I don't think Audrina ever asked!"
Ryan started calling and texting Audrina and it wasn't long before he was giving her a tour of his million dollar home while his buddies partied elsewhere in the house. The next morning, one of his guests opened Ryan's bedroom door and "found him and Audrina dead asleep, lying next to each other in bed, with the covers barely covering their naked bodies!"
And this is all while Ashlee was dating and madly in love with him. Good thing that didn't last, I guess she wouldn't be where she is now; happily married and pregnant with her first child. It always works out for the good people...Who's Audrina with now?? That's right--her boytoy of the week..don't even know who because she goes through them so quick no one can keep track.