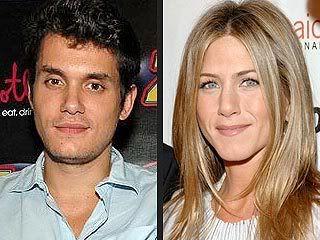 John Mayer is opening up about his breakup with Jennifer Aniston.
"There's no lying, there's no cheating, there's no nothing," Mayer told reporters Saturday about his split with Aniston after working out at an Equinox Gym in New York's SoHo neighborhood.
If anything Mayer had only praise for his ex, saying: "Jennifer Aniston is the smartest, most sophisticated person I think I have ever met."
So what went wrong? "People are different, people have different chemistry," said Mayer, who appeared emotional, nervous and sad. "I ended a relationship to be alone, because I don't want to waste somebody's time if somethings not right."
Sources confirmed that the duo, whose whirlwind romance began in April, mutually decided to split earlier this week.
Since the breakup, Aniston and Mayer have settled into their separate lives on different sides of the country.
Funny how last week I was reading a magazine that was talking about John and Jen's wedding. They had planned the whole thing out; including the dress, the guest list, the food and everything else. It's so funny how the world sees things that aren't even true. For all we know they could have been on the verge of breaking up for weeks now. Oh well! It's still sad because it seems like Jen was finally happy, then again who knows--it's only what I read.
[source:people]