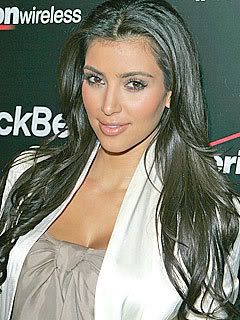 Kim Kardashian is already in rigorous rehearsals for Dancing with the Stars, and she hopes it will have a positive effect on her famous derrière.
"I'm hoping that it'll firm it up and shape it up," she said during a launch party for the Pink Blackberry Curve at L.A. boutique Intermix. "Everyone is asking if I'm worried it's going to go away. No, it's going to tone it up. I can use that."
Kardashian said she expects to show off more than a little skin as the competition moves forward.
"Today the costume that I tried on wasn't as crazy, [but] the better shape that I get into they will be a little more sexy and risqué," she said. "I'm starting off with maybe a ball gown, something a little bit more elegant and a little bit more covered up."
Kardashian, who upped her fitness regime in preparation for the competition, is now dancing eight hours a day with pro partner Mark Ballas. "I'm seeing a slight change [in my figure]," she said. "I realize that when I would try to work out really fast, that I would be burned out. I would work out for two days and then wait a few weeks and then workout for a few days again. I decided to stay focused and continuous and I started to see a major change. So, I think I'll start to see a slow progress throughout the whole show."
As long as she can steer clear of dangerous glass coffee tables, that is. "My toe is hurting me a little bit more than I thought," said Kardashian, who cut her toe in a hotel room Sunday. "We switched to an open toe … We cut off some of the straps to make it a super-open toe on one foot so that I can [dance]."
As far as her chances of walking away with the trophy, she feels being paired with Ballas, who took last's seasons title with Kristi Yamaguchi and with whom she already has a "brother and sister" bond, gives her an edge.
"I do feel the competitive spirit and he's been helping me to feel better by telling me that every female celebrity that's won Dancing With the Stars, their name started with a 'K': Kelly Monaco and Kristi Yamaguchi. So I'm a little bit luckier there."
[source:people]