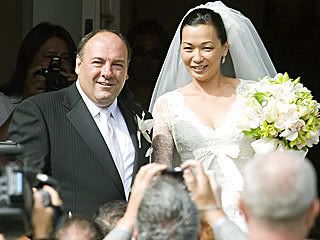 James Gandolfini married his fiancée Deborah Lin yesterday (Saturday) in her hometown of Honolulu, Hawaii.
"There was a nice big kiss at the end with both hands on the cheeks" when they officially became husband and wife, a guest says. "They looked great."
A group of their closest friends and family were the only ones in attendance as the two exchanged their vows in an intimate ceremony surrounded by white lilies and rhododendrons adorning every pew held at Central Union Church.
Deborah, a former model, strolled down the aisle in a white gown made of Italian lace while James stood waiting as a harpist played the "Hawaiian Wedding Song" in the background.
James's son Michael, 8, from his first marriage to Marcy Wudarsk (which ended in 2002), served as best man.
Following the elegant 20-minute nuptials, the newlyweds stepped into a white stretch limousine and headed to their evening reception at a nearby resort.
At the reception, James and Deborah sat at an elevated table looking out onto the guests in the filled ballroom. "They both wore long, green leis around their necks," says a source. "There were lots of white flowers on the tables and James was beaming."
The couple made their first public appearance on the red carpet in March 2007 for the New York City premiere of the second half of the final season of The Sopranos and have been engaged since late 2007.
Congrats to the two of them, I wish them lots of happiness in their marriage.
[source:people]