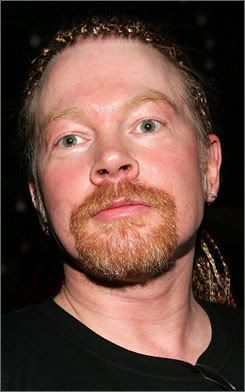 A blogger suspected of streaming songs from the unreleased Guns N' Roses album "Chinese Democracy" on his Web site was arrested today and appeared in court, where his bail was set at $10,000.
FBI agents arrested 27-year-old Kevin Cogill this morning on suspicion of violating federal copyright laws. Cogill appeared in court in the afternoon wearing a T-shirt; his girlfriend sat court and afterward said, "Rally the troops," but declined further comment.
Federal authorities say Cogill posted nine unreleased Guns N' Roses songs on his Web site in June. The songs were later removed.
After he was released he posted on his blog that the FBI had questioned him and he asked his readers if any of them knew a good attorney. He was represented today in court by a federal public defender.
According to an arrest affidavit, Cogill admitted to agents that he posted the songs on his Web site. Prosecutors said Wednesday the leak could result in a "significant" financial loss for the band.
Cogill will not face any special Internet restrictions, but was ordered to appear in court for a preliminary hearing on Sept. 17.
"Guns N' Roses representatives have been made aware of the arrest and are leaving the matter to the authorities," said Larry Solters, the band's spokesman.
I understand that the album is yet to be released and he is violating copyright laws, but he did remove them. And seriously, "significant" financial loss is just ridiculous!! Axl is just a whiny bitch. People who want the album are still going to buy it, some small time blogger isn't going to make CD sales suffer dramatically, if even at all. Maybe if he put the album out on time months ago like it was supposed to be people wouldn't be trying to find it other places!! (I'm currently looking out the window for FBI agents while typing this in case Axl doesn't like that I referred to him as a bitch...lol)