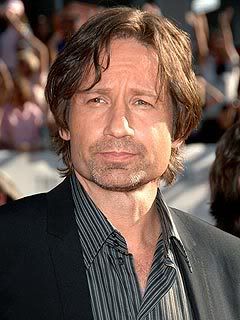 David Duchovny has now entered a rehabilitation center for sex addiction. His lawyer, Stanton "Larry" Stein, issued this statement from David.
"I have voluntarily entered a facility for the treatment of sex addiction, I ask for respect and privacy for my wife and children as we deal with this situation as a family."
Duchovny fended off rumors of sexual addiction throughout the 1990s. "If you're single and in the public eye and you have a few dates, you're a sex addict," he told Cosmopolitan in 1997. Leoni also publicly denied the speculation at the time, telling Elle in 1998, "David was accused of being a sex addict. Which I always found very exciting. And then I found out it wasn't true."
"Twelve years ago, I would have been hard-pressed to understand why I'd want to be involved sexually with one person this long," the X Files and Californication actor told Best Life magazine earlier this year. Before Téa, the longest my intense sexual interest would last would be maybe two years," he said. "But the real rewards of a relationship come after you've been together a while. That's where Téa and I are lucky."
He would also sometimes sidestep sexual questions, particularly when they became the focus of interviews for Californication, his racy Showtime show that premiered in 2007.
"T-- and a--, not important to me," he told Entertainment Weekly last year. "Kind of beside the point."
In the interview with Best Life this year, Duchovny emphasized that for a married man, experiencing lustful feelings for other women is harmless – if they remain just feelings.
"There's nothing wrong with acknowledging the panoply of life's rich experience," he said. "You can't control your mind. Why would you want to? You can't feel guilty about being alive, about being a man, about feeling attracted. You can only control your actions."