Barack Obama's historic nomination acceptance speech was attended by a ton of celebrities. 'It was excellent,' Black Eyed Peas singer Fergie said. 'It was amazing.' 'Incredible,' said Jessica Alba before joining Fergie, Rosario Dawson, Wilmer Valderrama and Kerry Washington at a private exit from Invesco Field in Denver.
Other celebrities in attendance included Star Wars supremo George Lucas with girlfriend Mellody Hardon and his daughter, Forest Whitaker with wife Keisha and Star Jones, and Daniel Dae Kim of "Lost," who posed for pictures with the Hawaii delegation.
will.i.am performed his speech-song 'Yes We Can' with John Legend during the run-up to Obama's speech.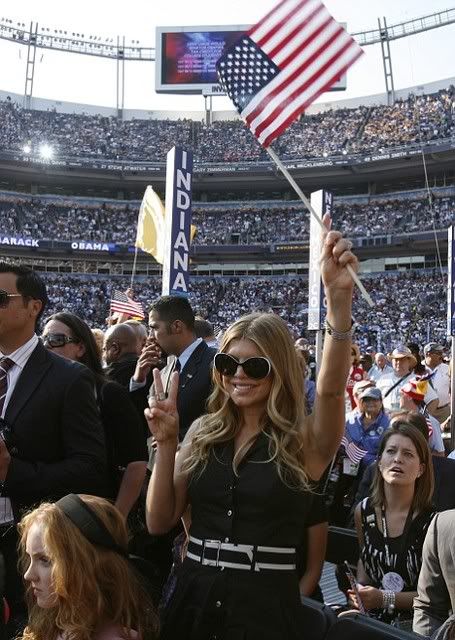 Susan Sarandon and Anne Hathaway sang along in the stands as Sheryl Crow performed 'Change is Gonna Come', and crooner Michael McDonald prompted many a flag wave with his rendition of 'America the Beautiful'.
Oprah Winfrey left Denver with the candidate she wanted, but reportedly without her eyelashes. The talk-show host said she was moved to tears by Obama's speech. And those must've been some serious tears. 'I cried my eyelashes off,' she said in the bowels of Invesco Field, moments after Obama accepted the nomination for president before an estimated 84,000 people.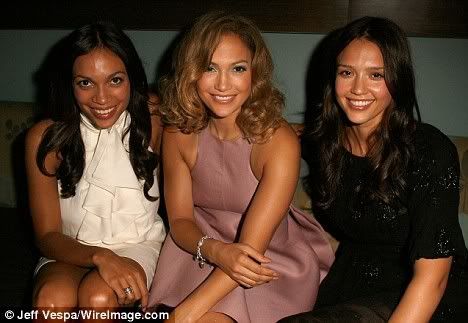 Before singing the national anthem to a slowly filling stadium, Jennifer Hudson appeared lost in thought, wearing a casual gray dress and listening to iPod earphones as her handlers asked for directions to the podium.
'Fired up!' said an excited Spike Lee on the field. 'Bigger than the Super Bowl!'
The only major party planned for Thursday night was an elite event sponsored by Vanity Fair and Google.
Among the celebrities spotted in and around the convention on Wednesday was Steven Spielberg, who directed a short film on veterans that shown at the convention.
Jennifer Lopez spoke at a reception honoring children's rights activist Marian Wright Edelman.
Ben Affleck read excerpts from a Howard Zinn book and made an appearance at the city's food bank for America's Second Harvest.
Affleck was joined by his wife, Jennifer Garner, at the book reading at the Starz Green Room across the street from the Pepsi Center. Also participating: Dawson, Washington, Taye Diggs, Hill Harper and Josh Brolin.
[source:dailymail]