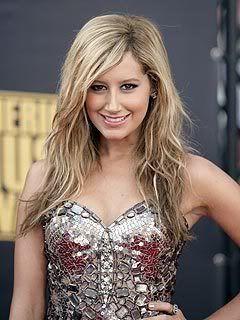 Several Internet posts Thursday said the actress/singer Ashley Tisdale may have contracted the disease from her rhinoplasty procedure last year. By Friday the rumor mill kicked into overdrive causing some panicked fans to post YouTube videos to "Pray for Ashley."
"Online reports that High School Musical star Ashley Tisdale has been diagnosed HIV positive are completely untrue," her rep, Scott Appel says.
Another Internet site posted what it claimed was a statement from Cedars-Sinai Medical Center in Los Angeles. But Cedars-Sinai spokesperson Simi Singer says, "We absolutely did not issue a release."
Ashley is currently in Salt Lake City filming High School Musical 3.
I feel bad for the poor girl, having this horrible rumor about her going around. Some sites out there have nothing better to do than make up bullshit because they have nothing else to write about. Even having fake statements from the hospital and stuff, that is just wrong. People should stop going to those sites and supporting the lives of pathetic people who try to ruin other successful people's lives. This girl is 22 and a hard working woman and people just want to shoot that down. Even with all the uncertainty that took place when this rumor first broke, her fans stood tall and were extremely supportive of her through it all. You Go Girl--Fight off those rumor starting ignorant idiots, and thank your fans!!!