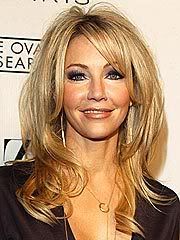 Heather Locklear is seeking treatment for psychological issues at an Arizona facility, her publicist confirmed.
"Heather has been dealing with anxiety and depression. She requested an in-depth evaluation of her medication and entered into a medical facility for proper diagnosis and treatment," says Locklear's rep, Cece Yorke. "This is a confidential medical matter and no further statement will be released."
Hmmmm I'm surprised her publicist didn't claim that she was "researching a role" or something like that. If this really is the case, then I hope she gets all the help she needs and gets better soon!!