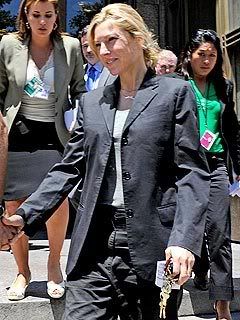 Tatum O'Neal was arrested in New York City Sunday for allegedly buying crack cocaine near her home.
A New York City Police spokesman Det. Martin Speechley confirmed to PEOPLE the Paper Moon Oscar winner, 44, was seen making the illicit purchase at about 7:30 p.m. Sunday on Clinton Street. She was arrested and charged with criminal possession of a controlled substance, a misdemeanor.
Speechley said police also arrested the alleged drug dealer, Allen Garcia, 32, who was charged with criminal sale of a controlled substance, a class B felony.
O'Neal and the dealer were taken to Manhattan's 7th precinct for booking. O'Neal was arraigned and posted bail Monday shortly after noon.
The New York Post reports that O'Neal is said to have told officers, "You know who I am, right?" She also claimed she was "researching a part – I'm doing this for a part as a junkie."
In addition, she is quoted as telling detectives, "Can't we just forget about this?"
Wow that really is so typical and pathetic. I am so sure you were researching a role that required you to find a dealer in NYC and buy it from him and use it after that. Riiiighhhttt!!! And then to use the lines, "you know who i am"?--they are always trying to get away with everything. It makes me sick.
She is due back in court July 28. Messages left for her publicist went unreturned.
[Source:People]