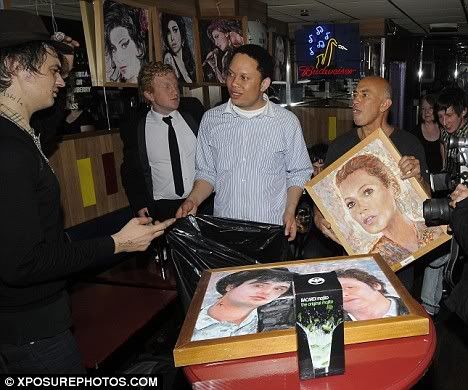 Pete Doherty is seriously missing his ex, Kate Moss, as he forked out £5,000 for a portrait of her.
Not content with seeing her face in newspapers and magazines every day, now owns an oil painting of his former girlfriend after buying it from artist Sam Shaker last night.
He had been performing at Soho's Jazz After Dark club, which Shaker runs. After the show he took home the painting of Moss, called Beauty.
But we can reveal that Doherty actually commissioned the work when he and Moss were still a couple last May - but never paid the £300 Shaker charged for it.
After splitting up with Moss, Doherty went to the club to get it to give to her as an apology, but he did not have any money on him. It hung on the wall for a year and Shaker considered auctioning it for charity - until Doherty finally came to claim it.
Shaker decided that the work had rocketed in value and charged Doherty more than 16 times the original bill.
But Doherty, who was performing alongside DJ Peaches Geldof, was obviously feeling flush as he also snapped up a painting of himself with Paul McCartney, and one of his new best friend Amy Winehouse, wrapping up all three pictures in a bin liner.
Doherty, who was as grubby as ever with dirty fingers and wearing a Burberry check shirt - an item popular in "chav" circles - looked happy about his purchase as he left the club with his friend carrying the paintings.
Wow that's kinda weird buying paintings of your ex and also of your crackhead best friend Amy Winehouse. As much as I love my friends I don't think I would want oil paintings of them in my house and definitely not ones of my ex's.
[source:dailymail]