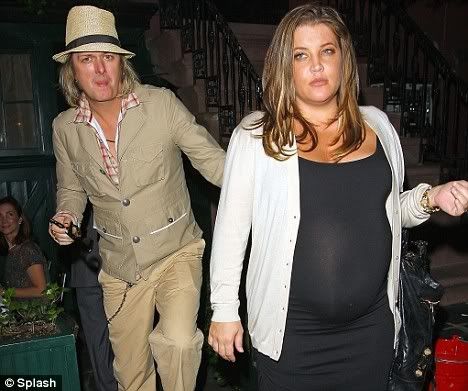 Lisa Marie looks as if she is going to burst. She is expecting her third child.
The 40-year-old is married to guitarist and music producer Michael Lockwood.
Presley's agent confirmed rumors the singer was pregnant in March after she was first pictured with a bump in her belly, and said: 'The couple are incredibly overjoyed'.
Lisa Marie's marriage to Lockwood is her fourth in 20 years. She has two children, Danielle and Benjamin, from her first marriage to musician Danny Keough, which lasted from October 1988 until 1994. Her marriage to singer Michael Jackson, who she wed in May 1994, lasted just 21 months and her nuptials with actor Nicolas Cage lasted just three. Lisa Marie was then engaged to rocker John Oszajca before marrying Lockwood in Japan, in January 2006.
I think she looks gross in this picture. Normally I think she is a very pretty lady but I don't know what it is. I've seen pictures of her when she was pregnant with her last 2 kids and she didn't look bad then so I don't know what is going on with her now.