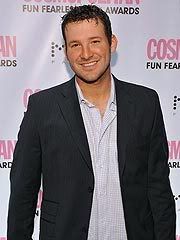 So for the first time Tony Romo is speaking out against the rumors. First reports that Joe Simpson was interfering with his relationship with Jessica Simpson and his business affairs, and secondly that his parents did not approve of or get along with the Simpson family.
Tony Romo released a statement to PEOPLE saying,
"It's all laughable."
In his statement, Romo insisted that the characterizations are "so far from the truth."
A source also confirmed that Romo's father, Ramiro, went to the Masters golf tournament in Augusta, Ga., with Joe Simpson earlier this year and "had a great time."
And there was more family bonding when, after spending a couple of days in Dallas, Jessica and Tony shared a lunch date Friday with sister Ashlee and new husband Pete Wentz at a Chili's in Encino, Calif.
"Jess was giggling and grabbing onto Tony. They were both very natural and sweet with each other," says a source. "It was cute to see the sisters and their guys having such a good time."
So looks like everyone was wrong about these two. They have fights just like everyone else. Tony flirts with girls in bars like most guys. But when you are a celebrity those things that all normal people do draw so much attention to yourself and cause rumors to fly. Glad they are still together, happy and Tony put the rumors to rest....for now!!!
[source: people]