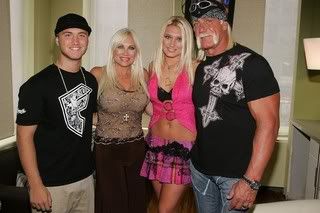 Bollea was sentenced last month to eight months in a Florida county jail after pleading no contest to charges stemming from the Aug. 26, 2007, car crash that left his best friend in critical condition.
He was placed in solitary because the jail was not equipped to house a minor in the minimum-security area, which only holds adults, the court papers say.
Nick Bollea's attorneys requested Monday that he be moved out of solitary confinement, where he is serving his felony reckless driving charge.
Bollea, spends 16 to 17 hours a day in a maximum security cell in a Florida jail where his food is delivered through a slot in the door, his attorneys said in a court filing seeking a transfer to monitored home confinement or the minimum-security area.
"Understandably, this situation creates an unbearable anxiety for a minor in solitary confinement," the papers say.
The confinement at Pinellas County Jail, according to his lawyers, "substantially amounts to cruel and unusual punishment for a juvenile and is not warranted for a non-violent first offender serving a probation sentence."
I'm sure at first he(and his layers&family) wanted him in solitary for protection reasons, but now I guess it's getting to him. I completely understand that him being isolated like that could cause him to have a severe mental breakdown. I guess he's figuring out in the general population it's not really so bad compared to solitary. Him going home would be crazy and unfair because for people who aren't celebs don't get that option.