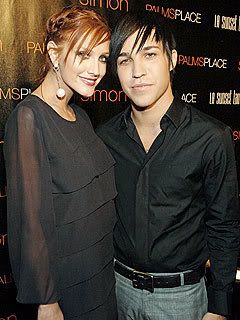 Newlyweds Pete Wentz and Ashlee Simpson are expecting their first child this year.
In an interview with E! News at the Op clothing launch party in Los Angeles, Wentz revealed he's "excited to be a dad."
"I'm genuinely a nervous person in general," said Wentz.
But finding out he was expecting a child with Ashlee was an exception.
"The first time I ever went to the doctor's office and heard the (baby's) heartbeat, I felt totally content and at peace with everything," he said.
Aww that is so sweet. I loved how he said how at peace he was with everything after hearing the baby's heartbeat, it shows how mature & caring he really is. Maybe the world is wrong about these two, maybe they really are meant to be together. So many people/sites out there talk shit about them, but I really like them--they seem so sweet and completely in love with each other, and in the end, that's all that matters!!