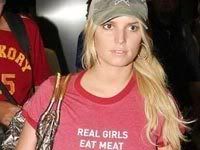 Jessica Simpson has become the latest target for animal rights group PETA after she was spotted wearing a t-shirt with the slogan 'Real Girls Eat Meat.'
It is supposedly a subtle dig at boyfriend Tony Romo's ex-girlfriend, country superstar Carrie Underwood - who has twice been named World's Sexiest Vegetarian by PETA.
"Jess is sick of hearing about how Tony still has feelings for Carrie," The Daily Telegraph quoted an insider, as saying "She's obviously trying to poke fun at her rival and let her know who really has Tony's heart," the insider added.