Two
new beautiful babies have been welcomed into the world!! Jessica Alba and Tori Spelling both gave birth to happy and healthy baby girls, just not on the same day.
Jessica's baby,
Honor Marie Warren
was born June 7 in Los Angeles, her rep, Brad Cafarelli, confirmed.
The actress recently did some last-minute shopping for baby gear at Bel Bambini on Robertson Boulevard in Los Angeles, picking up items such as Born Free baby bottles and a Boppy pillow for breastfeeding.
"She seemed relaxed," says a source, "and ready to welcome home her baby."
As for the kind of parent she plans to be, the actress recently told Fit Pregnancy that she'll walk the line between tough and nurturing. "I don't want to be my child's best friend. I want to be a mom," she said. "But I do want my child to come to me when they have problems and need to talk, so it's going to be about treading that line."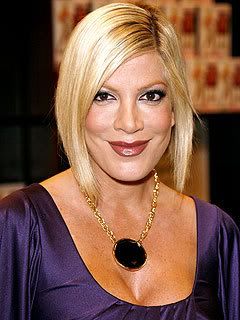 Tori's
second baby,
Stella Doreen McDermott
was born yesterday at 3:13 p.m. in a Los Angeles hospital via C-section.
She weighed 6 lbs., 8 oz. and was 19 3/4 inches long, a rep for Spelling said.
The couple also have a 1-year-old son, Liam Aaron
"I've always wanted a little girl since I'm such a girly girly," said Spelling, who had an emotional reaction when she found out. "I immediately started crying. I couldn't believe it. I have my beautiful little boy and now I'll have my little girl! It's amazing.
The actress, who reconciled with her mom Candy after Liam was born, hopes to correct the mistakes of the past. "Because my mother and I have always had a complicated relationship, I always wanted a girl to prove that the past doesn't have to repeat itself," she said. "I can't wait to be a great mom and friend to her."
Seems
like a tiny stab at her mom there. But oh well, I'm happy for both of these moms, and I'm sure in the next few days some pictures of the babies will be out. Unless of course Angelina and Brad have the twins because in that case everyone else's children will be forgotten about for the $15 Million dollar babies!!