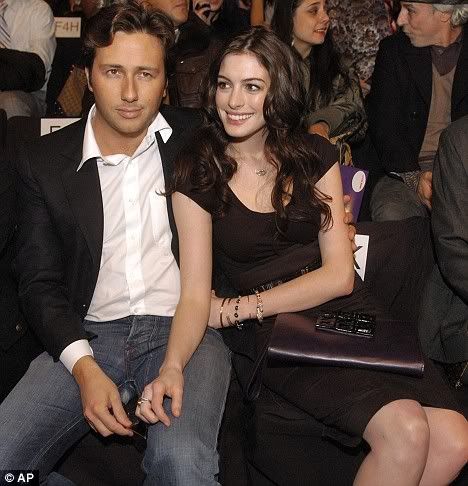 So when your boyfriend was sued for a bad check and now his charity is being investigated by New York State, it could hurt your career. So what do you do when your in love, but it's just not good for you?? You get rid of him!!
At least that's what Anne Hathaway did. She put on a brave face at her latest film premiere last night after breaking up with long-term boyfriend Raffaello Follieri.
She ended her four year relationship with Raffaello over the weekend.
Last week, it was reported his charity Follieri Foundation, which funded vaccination programmes in developing countries, was being investigated by the New York State Attorney General's Office.
An insider tells the Mail Online that Hathaway made the painful decision to end their relationship because of the effects his controversial business dealings could have on her career.
Hathaway served as a director on the charity's board until some time last year, with her rep saying: 'Since she is no longer associated with the foundation, why would you expect her to be familiar with all of this,' when asked about the investigation.
A source said: 'It's heartbreaking for her to dump him, and she's devastated that it's come to this, but she really didn't have a choice. His scandals were hurting her reputation.'
Despite their split, it remains to be seen if the separation is permanent.
The couple were reported to have split briefly this year after Follieri was sued by a former business associate for bouncing a $215,000 cheque.
Criminal charges against Follieri were dropped after he turned himself into police and settled the outstanding bill.
Hathaway also heard rumours from her friends in New York that the businessman had been flirting with other women while she was away filming. The friend added: 'Raffaello would only ever visit her on sets for short periods of time.
'He was very caught up in his social life and making connections in New York, and stories would get back to Anne about his late nights and carousing, usually with models in the immediate vicinity.'
During the making of Get Smart last summer, Hathaway formed a friendship with co-star Steve Carell, who lent her a supportive ear during her problems with Follieri.
Hathaway's split from Follieri may mean she finally moves to Hollywood, after years of insisting she would remain on the east coast to stay close to her beau.
A pal said: 'She seemed to really be enjoying her freedom, and making new friends in L.A., especially Steve.
'Anne really wants to find a guy like Steve, and if he weren't married, I have no doubt she would date him in a second. 'She's such a fan of his work she couldn't help but quote episodes of 'The Office' to him when they first met. She thinks he's amazing.
'Even though she loves being near her family, a move to Los Angeles could mean better roles, more money, and a better pool of potential boyfriends.'
I mean I guess I can see why she did it. I can't really ever understand because I am not a celebrity and I have no clue what it's like to be dealing with the things she has been dealing with since all of his drama started. I'm sure she has heard so many negative things about him from her family, friends, agent, and fans. I guess she only did what was right for her career,
but
I wonder if it was what she felt in her heart. She was with this guy for 4 years so she had to love him..Right?? This must be so hard on her, dealing with all his legal woes and sticking by his side the whole time and now all the attention she is going to get from the break-up..poor girl!! I do wish her good luck and I'm happy she got rid of him, if that's really what she felt in her heart, not just that it was good for her career. Like hasn't she already made enough money that she could leave Hollywood with her love and live with him somewhere forever?? Then again maybe he wasn't worth it!!!