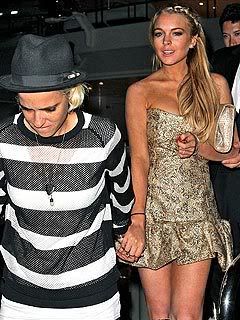 Everyone wants to know why Lindsay Lohan and Samantha Ronson spend so much time together..Is it because they are best friends?? Or are they lovers??
Well last night at Billabong's 2nd Annual Design for Humanity Event in Hollywood, Lohan's friend Cory Kennedy said, "Lindsay just feels safe with her, I just feel like they have a very loyal and trustworthy relationship, which is really hard to come across in the world that Lindsay's in. It's a trust thing."
Over the past couple weeks Lindsay and Samantha have been inseparable they enjoyed a recent family get-together with Ronson's mom, Ann Dexter-Jones, and Lohan's young sister Ali in New York City. They also partied up on Diddy's yacht during the Cannes Film Festival. And they can be found at all club openings around the country.
On Wednesday night, Lohan showed up at a G-Star party in Beverly Hills to support Ronson, who was spinning. After spending some together-time in the DJ booth, they headed for Ronson's next gig at the pre-party for a N.E.R.D. concert. (After Pharrell Williams's set, the two sat close together on a black leather couch – then made their joint exit around midnight.)
DJ Steve Aoki, a close friend of both Lohan and Ronson, said their bond is easy to understand.
"[Samantha] truly is a friend to her," he explained. "She's a very positive influence .... [Lindsay] sees that and sees a genuine, good friendship."
"I think the most important thing in a relationship is, really, trust," agreed Kennedy. "I feel like that's what their relationship thrives on. I love the fact that they're both really happy."
So that's it people...They are just FRIENDS--who occasionally make out..haha.