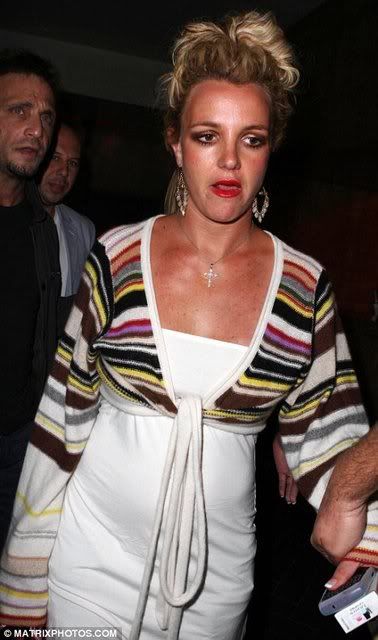 Ok #1-Why does Britney look like such shit in this picture??
#2- She does look very pregnant-for someone who is always photographed at Bally's gym, working out as much as she supposedly does, she wouldn't have that gut going on!!
It's been a real busy week already for Ms. Spears...
Britney Spears's father intends to sell her Studio City home in the latest liquidation of her assets, it was revealed in Los Angeles probate court Tuesday.
The hilltop house, located in a gated community, has been the scene of the recent drama in the singer's life, including the night in January she was taken from the property in an ambulance and forced into a psychiatric hospital.
It was not immediately clear where she intends to move. But a source close to Spears said, "Having more privacy and wide open spaces for her to raise her boys has been a goal for some time."
In March, a court granted her father, Jamie Spears, the power to "sell or dispose of" an undisclosed number of her seven cars. Jamie remains in legal control of his daughter's affairs until a July 31 hearing.
Also, her court-appointed attorney, Samuel Ingham, said in court that Britney would be out of state for several days – but he did not offer an explanation of why or where.
Another source said that Spears is set to head back to Louisiana this week to be by her sister Jamie Lynn Spears's side as the younger sibling welcomes her first child with fiancé Casey Aldridge.
In other Britney News...
According to a new unauthorised biography, Britney Spears tried to kill herself on two separate occasions,
Investigative journalist Ian Halperin makes the claim in his yet-to-be-released book, which he researched over 18 months as an undercover photographer.
In an interview with American magazine Life & Style, Halperin, who has written biographies on Kurt Cobain and Celine Dion among others, says: 'I spoke with her many times and went to her house.
'I will say the suicide attempts are true. I know all the details about both of them.'
An Britney family insider confirmed to the publication that the singer regularly hinted at suicide, and revealed her suicidal tendencies began after the birth of her second son Jayden James in September 2006.
The source says: 'It really became an issue once Jayden was born and it became clear Britney's marriage to Kevin was crumbling.'
'That's when she began to say things like "I wish I was dead" or "It'd be better if I could go to sleep and never wake up" on a regular basis.'
'It really seemed like the suicide option was a comfort to her, an escape route in case life became too much to handle.'
Britney's well-documented erratic behaviour has calmed in recent months under the watch of her father and conservator Jamie, but the author believes she's still at risk.
He says: 'I think she's in danger of a catastrophic relapse. Britney herself warned me that with her, it's always two steps forward, one step back.'
Adds the insider: 'She's on major medications. And she's being micro-managed and controlled to the extreme by her parents, the courts and a huge team of doctors and handlers.'
'She's like a zombie now. She's a shell of her old self.'
Poor Brit!! I thought she was getting better..maybe she is and this is just all old news. I hope so, I was really pulling for a Britney comeback!!!
[source:people/dailymail]