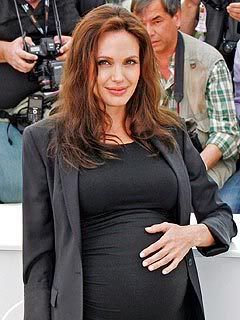 When Angelina Jolie found out she was pregnant with twins she was taken aback. Her and Brad have always talked about expanding their family, so why the shock??
"We weren't expecting twins," Angelina tells Entertainment Weekly in a new interview. "So it did shock us, and we jumped to six [children] quickly. But we like a challenge."
With a house full of kids, Jolie says she needs help – so it's a good thing there's family around to pitch in. "[Brad's] mom and dad are on standby to come out and help," she says.
But the real focus, she says, is making sure their other children feel included when their new siblings are born. "They're old enough to feel included to change diapers themselves, to feed bottles themselves, like if I pump into a bottle. We're trying to find ways where it can be a fun group thing ... Everybody gets special time so we can make sure we know where they're at."
As for how she's handling being pregnant with twins, the actress tells EW she's taking it easy and letting Pitt handle all the heavy lifting – literally. "We've worked out a system where Brad just lifts [the kids] to me every time they want to come up," she says. "I just don't bend down. I'll scream, 'Honey!' and he'll come running and lift them up."
And pregnancy has other benefits as well. "It's great for the sex life," she says. "It just makes you a lot more creative. So you have fun, and as a woman you're just so round and full."
I wish these kids would come out already so I can stop hearing about them and how much money they are worth...It's making me jealous!!!
[source:people/ew]