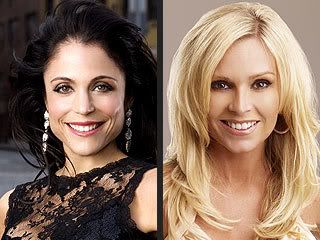 During the Wednesday taping of the Bravo A-List Awards the casts of The Real Housewives of Orange County and New York City almost fought each other. It was all over the script the ladies were supposed to read during the awards ceremony.
According to New York "Housewife" Bethenny Frankel, the argument started when O.C. Housewife Jeana Tomasina didn't like the script that was given to the Housewives to say on stage.
"They [The O.C. Housewives] said in our material that my apartment is a two-by-four, and it's actually a one-by-two, and so I can take it, I don't care," Frankel said "But they're offended that I'm saying something about them living 65 miles from the beach. Jeana said, 'I don't think that's funny.'"
Jill Zarin from the N.Y.C. cast said, "Bethenny gave a dressing down in the dressing room to one of the Housewives," but O.C. cast member Tamra Barney tells the story differently.
Barney asserts that Frankel actually came after her physically: "Bethenny scratched me a little bit. I swear to god. She tried to get me from behind and I put my arm up, and she scratched me. I covered it with makeup."
Later that evening Frankel denied that it became physical, but alluded to the fact that the argument was far from over. "Watch what happens," Frankel warned, adding: "Give me a can of hairspray and a match, and I'll take care of that in the dressing room later."
Wow these ladies need to grow up. Seriously they all are basically a bunch of nobodies, who had the chance to go on t.v. and now think they are the shit. Well let me tell you ladies...YOU ARE NOT THE SHIT AND YOU ARE VERRYYYY FAR FROM IT!!! So besides the fact they have a little bit of money, no one knew who they were before Bravo had to shove this horrible show at us. And of course since I'm addicted to reality(scripted) t.v., I sit here and watch both of these pieces of crap. While I sit there with my eyes glued to the show I think about how bad I hate all them and wish I could make myself turn the channel, but I can't. So as much as I hate them, inside I secretly love them. Don't tell anyone, cause this is what makes me a very big hypocrite!!!
Is there anyone else like me, that has a love/hate relationship with either one of these shows?? Actually I really only like the Orange County one, don't much care for the New York ladies. Leave me comments, let me know how you feel about them!!
[source:people]