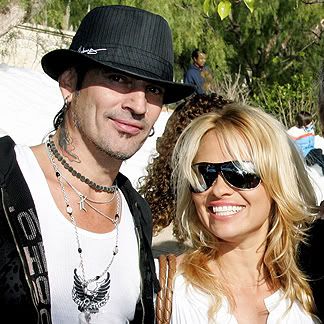 Rolling Stone was interviewing Mötley Crüe in their Hollywood rehearsal studio yesterday about their summer CrueFest tour and some crazy information was revealed.
"Pamela and the kids have moved in with me," Lee told Rolling Stone. "It's awesome, man. It's definitely working. You can tell on the kids' faces — they're happy when we're together."
They have two children together, and were divorced in 1998.
As we all know this isn't the first time the two have tried to get back together.
"We've only given it a try 800 times — 801, here we go," Lee told the magazine.
I kinda saw it coming, this past week they have been photographed together all over town shopping for plants and stuff so I thought maybe they were going to get back together. I know they usually hang out a lot, even when Pam was married to Kid Rock and briefly to Rick Soloman, but usually it's because of something for the kids. This time there were no children in the pictures!! Oh well...hey maybe they are meant to be and it will take this millionth time for them to realize that. Good luck to both of them!!
[source:rolling stone]