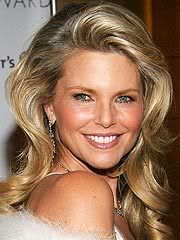 Christie Brinkley and Peter Cook's upcoming divorce trial will remain open to the public, a New York judge ruled Friday.
Long Island Judge Mark D. Cohen said in his five-page decision he's keeping the trial open because "open courtrooms, in general and in divorce actions, may provide a basis for societal education."
He added: "The required high burden of compelling reasons to close the courtroom has not been met."
The ruling goes against a motion brought by a law guardian for the children and supported by Cook. Law guardian Theresa Mari argued that some of the evidence revealed at trial could damage their two children – Jack, 12 and Sailor, 9.
Brinkley's attorneys argued to keep the trial open. Divorce trials in New York State are open to the public unless a judge decides to close them.
Cook's lawyer, Norman Sheresky, expressed disappointment and admonished Brinkley for pushing to keep the trial open.
"Obviously, like any father, Peter is disappointed Christie Brinkley has invited their children to attend the divorce trial," said Sheresky. "Why would anyone be happy about that? It's putting herself in front of her children."
But Brinkley's lawyer, Robert Stephan Cohen, said, "The reality is he put himself way in front of his children and his wife when he made the awful decision to destroy the marriage. The trial will get at the truth, which is very important to Christie."
Brinkley also released a statement saying, "I still remain hopeful that these matters can be resolved privately."
The trial begins July 2.
[source:people]