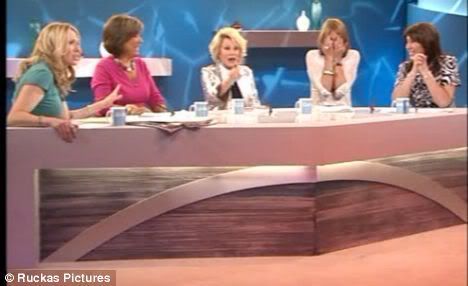 "Yes, I swore, and I'm so f------ sorry," the comedian, Joan Rivers said in a statement – though the statement actually had the same offending word Rivers used on the chat show Loose Women(a British version of The View).
When she was asked about the challenges of interviewing celebrities on the red carpet. She said, "Get ready to bleep this," before using the offending words while talking about Russell Crowe. Only she really let herself go, describing the actor Russell Crowe as a 'piece of f****** s***'.
"I enjoy it when they're nice, and you know what I'm saying. You get someone like Russell Crowe, and you want to say to the camera he is a piece of – get ready to bleep this – f****** s***!" (Her exact quote from the show)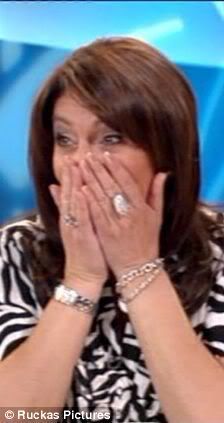 As her fellow panellists giggled nervously, an unabashed Miss Rivers explained she
thought her expletives would be 'bleeped out'.
Presenter Jackie Brambles replied: 'But we haven't got a bleeper – we're live!'
Rivers, who was on the show promoting her live show Joan Rivers: A Work in Progress By a Life in Progress, which will open the Edinburgh International Festival in August, was then asked to leave the set during a commercial break.
"We do apologize for that," the host said into the camera. "Joan didn't realize that we were absolutely live."
Yesterday at a show in London, when ashed about the "mistake", Rivers said she was "thrilled" to have been hauled off during a commercial break. "They whipped me off. It's the first time in 40 years, she said. "I'm thrilled – everyone keeps saying to me, What more is there in your career? You've got every award there is. I'm certainly not mellowing with age. Viewers, people have heard the word f***. No one told me the TV show Loose Women was a reality show and that I would be voted off," said she later in her statement. "It's funny: offstage, I hardly ever use profanity. My favorite four-letter word is shop."
An ITV spokesman released their statement saying: "We would like to apologize to Loose Women viewers for the inappropriate language used by Joan Rivers on today's show. Loose Women guests are always briefed that it is a live daytime show and as such are reminded not to swear or use inappropriate language."