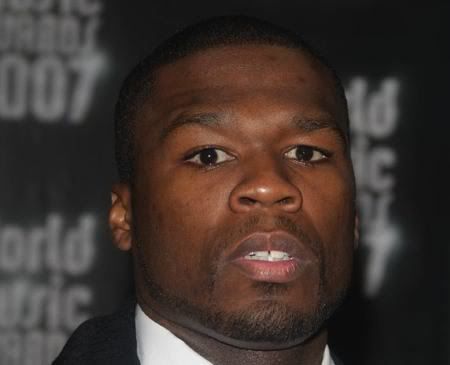 This morning while I was driving to work, the radio news person was like "50's house had a fire", "stay tuned after this for the story". So i pull up at work and I'm sitting there patiently waiting for the song to end. Then the next song ended, and another one after that. Then came a commercial break. I was now 15 minutes late. I still waited-they played 2 more songs and started talking again, I gave up and went inside. So i looked it up and I was kinda depressed that it wasn't really his house. That was mean, but I haven't been having a very good last couple of weeks and for someone who can go and buy buy 20 more houses, I wished it was his--Oh well!! Here's the deal:
The Long Island home from which he has been trying to evict his ex Shaniqua Tompkins from mysteriously burned down this morning. The fire, which authorities have reportedly said was
no accident
, comes on the heels of a very public dust-up in an attorney's office that then spilled out into the street between 50, his entourage, Shaniqua and lawyers on Monday afternoon.
Six people were taken from the home and treated for smoke inhalation, including Tompkins, and their 10-year-old son Marquise. All have reportedly been released. A source says that 50 isn't a suspect in the fire at this time. But has released a statement via his rep.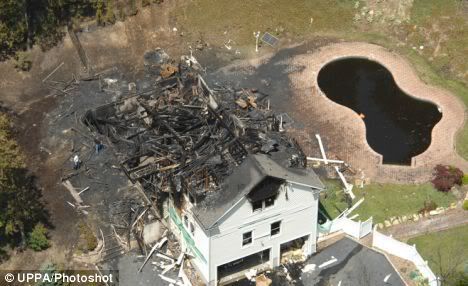 "Informed this morning while filming a new motion picture on location in Louisiana, Curtis Jackson expressed deep concern over this fire at his property. He is extremely thankful that everyone including his son, Marquise, escaped the burning house safely. He is confident that authorities will be conducting a thorough investigation of the incident and is eager to review their findings." I'm sure he is-HA!
Shaniqua Tompkins was already ordered by the courts to vacate the house by the end of the school year. 50 Cent had ordered her to begin paying $4,500 in monthly rent. A deposition on Monday afternoon turned ugly when a member of 50's entourage reportedly "trashed" Tompkins' lawyer's office. The crazies involved too it to the street, and 50 allegedly had to be held back from attacking Shaniqua. TMZ has footage of the incident.
He bought the house for 4.2 million in January of 2007.
See now first I was thinking wow 50 is crazy doing that to his ex, but then I was like no, his son was in there, why would he do that. So really I don't think he did it, or sent one of his people to do it, why would he want his son to get hurt? Unless he thought his son wasn't home or something--I don't know. It doesn't make sense, I can see him wanting his ex dead but not his son. Sounds a little fishy to me especially since they said it
wasn't
an accident. Hmmm wonder what the outcome will be of this.