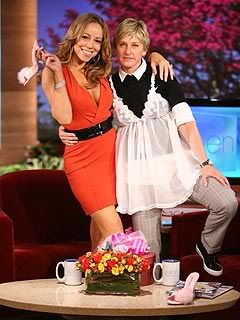 Mariah Carrey says the pair plan to get married
again
.
"Instead of trying to be like, 'you're invited, but, shhh, don't tell anybody,' we're just going to have another [wedding] next year," Carey told Ellen DeGeneres on her talk show Tuesday. "[Nick's] plan is to have one every year."
Those who attended the first beachside ceremony, she continues, were, "mainly people there to do my hair and help me with the dress." Both Carey and Cannon only brought along three friends each because, "we wanted to be on the beach and we didn't want other people taking pictures," said Carey.
On the shock of the wedding and the publicity stunt rumors, Carey told DeGeneres, "We both experienced the hoopla of trying to make something a publicity stunt, which is what everybody thinks, and will think anyway, but we don't really care about that."
Looking to the future, Carey said she's found the man she wants to have kids with. "My parents divorced when I was three and I didn't have many examples of what was the 'norm,' " she says. But with Cannon, she says, "I found the right person."
I still don't believe that this will last.