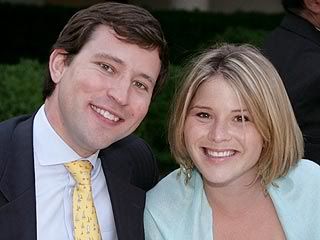 Jenna Welch Bush wed Henry Chase Hager Saturday – making her the first daughter of a sitting United States president to marry in 16 years.
They said their "I do's" before a
4-foot limestone cross and altar
that were the president's idea for the occasion and will stand as a permanent landmark on the Bushes' property.(That's a pretty large cross).
"This is a joyous occasion for our family, as we celebrate the happy life ahead of (Jenna) and her husband, Henry," the president said in his weekly radio broadcast Saturday morning. "It's also a special time for Laura, who this Mother's Day weekend will watch a young woman we raised together walk down the aisle."
Dinner and dancing for the 200 guests – including family and only the closest of friends, including longtime presidential advisers Karl Rove and Karen Hughes – were being held under tents.
Jenna, 26, in an embroidered organza Oscar de la Renta gown, was attended by twin sister Barbara, the maid of honor, who wore a dress of moonstone blue shimmer with a silver sash. De la Renta, a close friend of the family, also designed First Lady Laura Bush's deep turquoise "mother-of-the-bride" gown.
White House spokeswoman Sally McDonough said the colors – from the dresses to the décor – were selected to mirror the "very natural" colors of the central Texas landscape: the blues of the lake where Bush fishes for bass, the greens of Mrs. Bush's prized buffalo grass (native grass that she restored to the property) and the lavender, yellow and blue of the wildflowers.
Henry's brother, John, stood as Best Man. In keeping with Jenna's desire for an "organic and natural" feel to the wedding, the men dressed in suits – not black tie. And dancing was accompanied not by a fussy orchestra, but by Nashville-based wedding singer Tyrone Smith, otherwise known as Super T and a favorite at Southern frat parties.
I guess they are trying to show us how "normal" they are. I just found most of the news about their wedding details very strange.