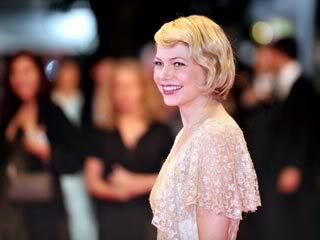 Michelle Williams made a dramatic, last-minute appearance at the Cannes Film Festival on Thursday, walking her first red carpet since Heath Ledger's death to promote her film Wendy and Lucy.
"It was decided on Monday night that she could come to Cannes, and she got on the next plane to arrive just in time to get dressed and come to our premiere," said a rep for Wendy and Lucy. "She came in and had a long nap and then came to the screening."
Williams, 27, will remain in Cannes at least through Friday night to promote another festival movie in which she appears, Synecdoche, New York, before flying back to the United States to resume filming a Martin Scorsese movie in Boston.
Williams has kept a low profile since Ledger died last January at age 28 of an accidental overdose. After attending his memorial service in Australia, she has spent time with their 2-year-old daughter Matilda in New York and on the set of her new film.
At Cannes, William's work in Wendy and Lucy was well-received, the rep says.
"Some people said tonight it was a transcendent performance," he says. "It's about things going on around her and she's just she's trying to go forward and things are not working out for her. You see her taking care of herself first [in the film], which is exactly what we must do."
[source:People]
I'm really glad to see that she is doing well. I have always liked her since Dawson Creek days, and felt horrible for what she had to go through earlier this year. Even though they had been split up at the time of his death, she still held a very big spot in her heart for him, she still loved him, and after all he was the father of their daughter. She really seems like a great mother and I hope her new films all do really well!!