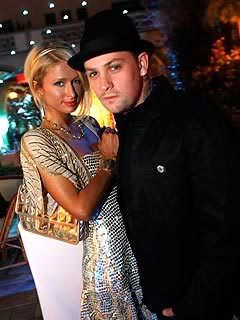 They've been dating for less than three months, but Paris Hilton and Benji Madden already have marriage in mind.
"He wants to [get hitched]," she said to friends at London's Nobu, where she showed up for a late-night snack with Madden and her parents. "We talk about it."
In fact, she's already pondering her gown: "I'd wear a beautiful white dress," she said dreamily, "probably Dolce & Gabbana."
"We are the perfect match," said the 27-year-old. "We don't like being apart, we like to stay with each other as much as we can."
No stranger to marriage proposals, Hilton said that Madden, 29, was different from her previous boyfriends, including ex-fiancés Jason Shaw and Paris Latsis.
"[Benji] is very down to earth," she said. "He's worked very hard on his own. He really has a heart of gold. He'd never do anything to hurt me. He loves and supports me no matter what. He's a really great person."
Like I said before, I really don't know about these two. I don't see this lasting, but who knows. Maybe Paris is a changed woman. We have already seen how one Madden brother has driven a "party girl" into motherhood, this brother might have those same capabilities.