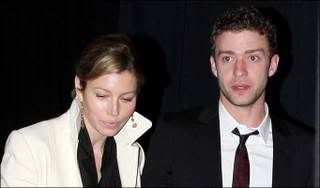 Jessica Biel and Justin Timberlake have been dating since January 2007 and word is now there ready to settle down. Sources say that soon he will be proposing to her and he has already started to look at potential wedding venues. It is going to be taking place on an island. His number one choice is the West Indian island of Mustique. "An exclusive, 1,400-acre island in the southern Caribbean with lush, rolling terrain cooled by trade winds, surrounded by pristine white beaches and clear, aquamarine waters." Because it is privately owned by those who live there, he would be able to ban all paparazzi from even landing there.
"He is so happy with her. They spent quite a bit of time apart recently when Justin was working with MADONNA. That made him certain Jessica was the person he wanted to spend the rest of his life with."
Then there are the rumours about a baby being on the way.
One source said Jessica has not been drinking recently, sparking pregnancy rumors. They added: "Justin is 27 and thinking about marriage and kids.
"To get all his close friends and family to Mustique will cost a fortune. But he can't put a price on how he feels about Jessica".
Aww that is so sweet.