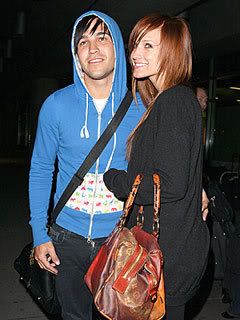 Like I had already said, Ashlee and Pete Wentz have confirmed that they are expecting their first child.
"While many have speculated about this, we wanted to wait until after the first trimester to officially confirm that we are expecting our first child," they wrote on Wentz's site, friendsorenemies.com. "This is truly the most joyous time in our lives and we are excited to share the happy news and start our family."
The bride, who has changed her name to Ashlee Wentz but will go by Ashlee Simpson-Wentz professionally, "I would love to have a big family one day."
Added her new husband: "A big soccer team or a band!"
That's cool, I'm very happy for them, even though I already knew this was coming. As for the name change thing, I didn't see that happening, usually musicians keep their names.