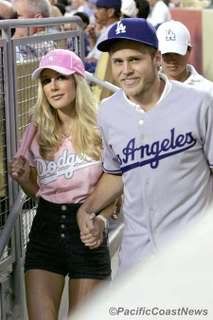 Heidi and Spencer decked themselves out in L.A. Dodgers gear and hit the stadium yesterday, where they took in a baseball game, some attention from the crowd, and their team's victory over the Cincinnati Reds.
The latest Speidi drama is off the field and back in the media, where Spencer is getting flak from Brody Jenner's daddy for being 'a bad influence.' '[Brody has] been brought down by all his friends,' Bruce Jenner accused.
But Spencer was quick to fire back: 'That's a bold statement for someone who only decided to try and be Brody's father after Brody got famous. He should focus more on trying to be a father and worry less about Brody's influences. Brody's doing just fine.'
Ouch, that was bad. Spencer is such a horrible person and taking jabs at someones daddy is just wrong.