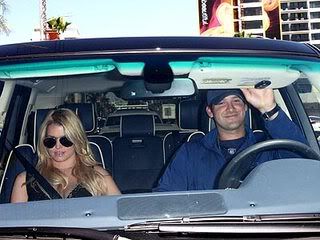 Jessica Simpson will be bringing Tony Romo as her date to Ashlee Simpson's weekend wedding.
Jessica, 27, will be maid of honor at her 23-year-old sister's wedding to rocker Pete Wentz.
On Friday Jessica and Romo met for lunch at Katsuya in Hollywood. The Dallas Cowboys quarterback, dressed casually in shorts and sneakers, arrived at the restaurant in a cab for the lunch with Simpson, who wore a sexy black short-shorts and high heels. He greeted the singer with a kiss and helped her out of her Range Rover.
Some sources have said that Jess and Ashlee's dad Joe "got down on his knees and begged Tony" to go to the wedding. They wanted him to go to protect Jessica's image. I don't know why, when everyone already knows they have broken up. But if this is true and he is going with her, he is a decent guy. Although if my guy just dumped me, i sure as hell wouldn't want him attending a wedding with me.
So let's hope these rumors aren't true and there really going together because they are in fact STILL TOGETHER!!!