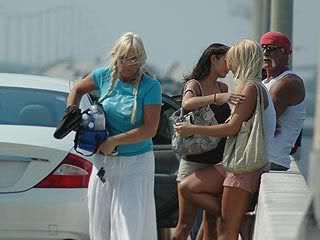 Brooke Bollea(Hogan)'s car was hit and pushed into a concrete wall by a man witnesses said was speeding on Sunday.
No injuries were reported to either Brooke Bollea, 20, her female passenger, or to the 19-year-old man in the car that hit Bollea's on the Bayside Bridge in Clearwater, Fla., according to a release from the Florida Highway Patrol. No charges have been filed in the accident.
Bollea's 2008 four-door Mercedes had $3,000 damage done to it, according to the release.
Bollea credited the use of seatbelts for keeping her and her passenger uninjured.
"I don't know if you heard, but my friend and I got into a really bad car accident today ourselves . . . As I turned on my car I clicked my seatbelt. As we pulled out onto the road, I looked over and realized my friend didn't have her seatbelt on. I reminded her to put it on and the minute she clicked it, a car crashed into us," Boella wrote in a MySpace post. "It was a horrible car accident, one that most would be severely hurt in, but we had our seatbelts on and they kept us in tight."
The friend, who calls herself lala on her Myspace page, posted the following: "..Brooke Hogans my hero, thank you for saving my life! Everyone wear your seat belts."
Hulk Hogan (Terry Bollea) and Brooke's mom Linda were both spotted Sunday at the scene of Brooke's accident. Glad no one was hurt, and as always of course you should ALWAYS wear a seatbelt.