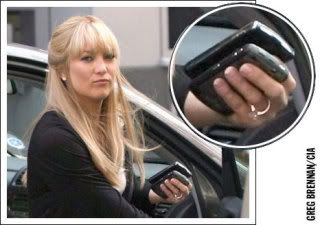 Yesterday it was reported that Kate Hudson
was spotted with a huge engagement ring on her finger and no one knew who it was to…and now they do! Owen Wilson proposed to Kate in Miami last week!
A pal of Kate confirmed the pair is to wed in a lavish ceremony next year. The source revealed: "Kate supported Owen during his low patch and that proved to him she's the woman he wants to be with forever. He picked out the ring and went for the biggest one he could find. He was nervous about proposing but Kate was thrilled and the whole thing was really emotional."
And now today it's being denied.
It was all because of the picture above of Kate wearing a huge ring on her finger that the rumor started.
A rep for Kate says that the ring in question isn't a token of Owen's love for his gal-pal, but rather a little bit of movie magic.
"She's filming a movie called Bride Wars!" the rep explains to OK!. "She is not engaged."
I really don't know if I believe the rep or any of this mess of a story. Oh well who knows, but when I find out some more I will keep you posted.