Amy Winehouse marked her first wedding anniversary to Blake Fielder-Civil with a visit to her husband in prison.
The couple spent their anniversary apart on Sunday after Amy chose to join troubled rocker Pete Doherty at a charity football tournament in south east London.
After missing a prison visit on Friday due to the traffic, Amy abandoned her usual scruffy clothes and dressed up in a pencil skirt and v-neck black top as she dropped by Pentonville Prison for a belated anniversary meeting.
After marking their first year as husband and wife in the visiting room of Pentonville in north London, Amy left the prison beaming to photographers.
On the eve of the couple's wedding anniversary, Amy's mother Janis Winehouse, spoke to newspapers dismissing their marriage as a joke.
She said: "They've been married, what, all of two minutes, maybe ten? He's been in prison for almost as long as they've been together. It's a joke. "But then so was the wedding, really. I wasn't upset by it because it meant nothing; nothing whatsoever. I think they were in Miami and got caught up in the moment, and that was it.
Those are some harsh words from her Mom. I was just happy to see her ditch her ratty gear for a nice skirt. Maybe she is changing her ways......HA yea right!!!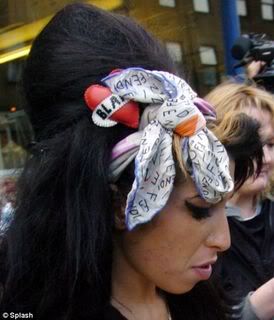 Amy paid tribute to her and Blake's anniversary by wearing this pillow with his name inscribed on it in her beehive during her visit to the prison.