Eva Longoria Parker and her friend Kevin Connolly (also one of the stars of Entourage), cheered on her husband Tony Parker Wednesday at Game 1 of the Western finals, where The San Antonio Spurs lost to the L.A. Lakers.
At
this same game it seems someone had quite the wandering eye.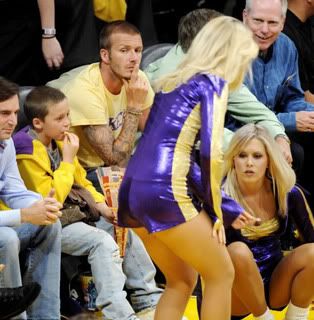 [source:Celebslam]
It
seems from this picture David Beckham was caught scoping out some cheerleader's ass. I just don't understand, for someone who knows they have cameras on them ALL THE TIME, why would you stare at other women when you know your wife will see this picture. You can even tell he's trying so hard not to look, so just don't do it. There is nothing wrong with looking but for a guy that was photographed back in April doing the same thing maybe he should just keep his eyes focused on the game.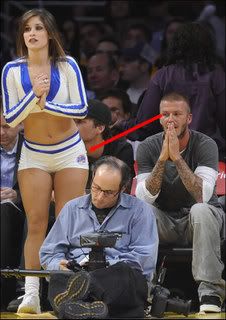 [2nd picture is from April. Source:Celebslam]